looking over what direction to go with this car is the smallest production made in 1940 ,meaning most had independent front end instead of a solid front axle ( mine has the solid axle ) also mine has whats called knee action shocks (well that part has to go no matter what )

So anyways i can spend almost 2000.00 on a slick front end to replace the antiquated solid axle ...and this would lower the front end about 5 inches ( not crazy about lowering it that much) that leads to having a need for air ride suspension to raise the front end just to get in and out of some driveways etc.

OR

Can go with a disc brake conversion that allows a 5 lug wheel and still retains the original steering all the way up to the steering wheel ( huge money saving to be had ) that allows the car to get a motor ,trans replace the old rear axle etc.

HMMMM WHAT TO DO ?
So in order to easily retain the original steering wheel / and column with gear box I shall retain the original solid front axle with leaf springs but replace the drum brakes with a disc brake conversion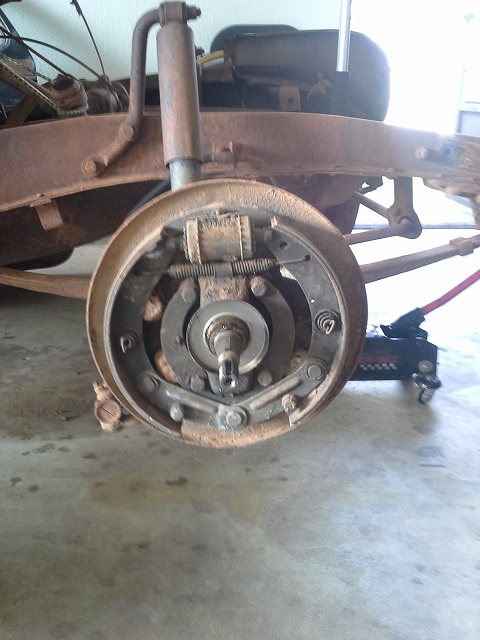 found that the left king pin was badly worn out so now to fix this area before using the permanent spacers needed to allow rotor to fit the original spindle
have to get the caliper in place
look at the wheel i want to use from
JEGS SPORT DRAG WHEEL
---
Permissions in this forum:
You
cannot
reply to topics in this forum